Like most people, Emily Bowman never gave much thought to what characteristics she would want in a surgeon. Then again, Emily is 11 years old. But she unexpectedly found her answer on the evening of January 12, 2021, when she met Bryan Pimlott, MD, a Blessing Physician Services board certified orthopedic surgeon.
"We had the exact same taste in music – Bon Jovi, Van Halen, KISS and other old-time rock-n-roll music," the soon-to-be-sixth grader said.
"She always has been a very old soul," her mom, Amy, said with a laugh.
Dr. Pimlott was the orthopedic trauma surgeon on call in the Blessing Hospital Emergency Center on January 12 when Emily, 10 years old at the time, arrived because of an accident at gymnastics doing a running round off back handspring.
"My arm just collapsed, and it looked like I had two elbows," Emily recalled.
Translation: Both bones in Emily's right forearm broke at a 50-degree angle.
To keep her mind off her injury, Emily's parents – Amy and Daryn – encouraged her to sing in the car on the way to the emergency center. Emily sang "Red Solo Cup" by Toby Keith. The song will play a role later in Emily's care.
The outstanding care the Bowman family received at Blessing began upon arrival at the emergency center. Emily felt comfortable at an uncomfortable time as her nurse and one of the X-ray technicians knew her gymnastics coach.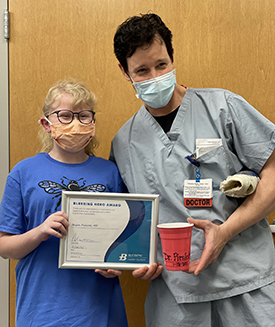 "It put her mind at ease that they could talk to her on that level; understanding how this could have happened," Amy said. "They made her feel very comfortable and, as a parent, that makes you feel a little bit more at peace during a stressful situation."
After the X-rays were taken, the nurse then told Emily and Amy that Dr. Pimlott was on his way to see them.
"He is a really neat guy," they remember the nurse saying. "Be sure to ask him how he puts his shoes on every morning. We're not supposed to let that secret out."
In addition to finding out the secret of how he puts his shoes on and his love for old time rock-n-roll, Emily also learned than that Dr. Pimlott participated in Season 9 of the television show, "American Ninja Warrior."
The Bowman family each found something special in Dr. Pimlott.
"You could tell from the moment that he walked into the room he had a genuine, caring personality," Amy said. "He could talk to a 10-year-old and a parent at the same time on a level that we all understood," said Amy. "He answered questions Emily had, as well as questions I had. He understood us as a physician and a parent."
"Exceptional. Straight to the point. Very personable guy," Daryn added.
Back to the Red Solo Cup. Emily's injury required surgery. Dr. Pimlott asked Emily what song she would like to play in the operating room while anesthesia was being administered. "Red Solo Cup" was Emily's choice. She was not expecting that while she was drifting to sleep for surgery the entire operating room staff, including Dr. Pimlott, would sing it to her.
While she slept, Dr. Pimlott was able to align the broken bones in Emily's arm to heal naturally, without placing a titanium rod in his young patient's arm.
"I can't say enough good things about her experience," Amy stated, which included the staff on the Women and Children unit at Blessing Hospital and the Orthopedic and Sports Medicine office staff at Blessing Health Center 4800 Maine.
Emily loved her care, too. She gave Dr. Pimlott a thank you "Red Solo Cup" and nominated him for a Blessing Hero award. Emily recommends the care of her hero to anyone.
"He is really nice with kids and I suggest him if you ever break a bone and you are near Quincy, and it's a Tuesday," Emily said confidently. "Go to the ER and he'll take care of you."
By the way, Dr. Pimlott treats people of any age from any area community on any day of the week.  And if you want to know how he puts on his shoes on, you'll have to ask him. We're not supposed to let out that secret.
For more information on the care of the Orthopedics and Sports Medicine team, go to the blessinghealth.org/ortho.