Overview, Hours And Directions
Blessing Health Keokuk Clinic
1414 Main Street,
Keokuk,
IA
52632
Phone Number
Hours
Monday - Friday 8 am to 5 pm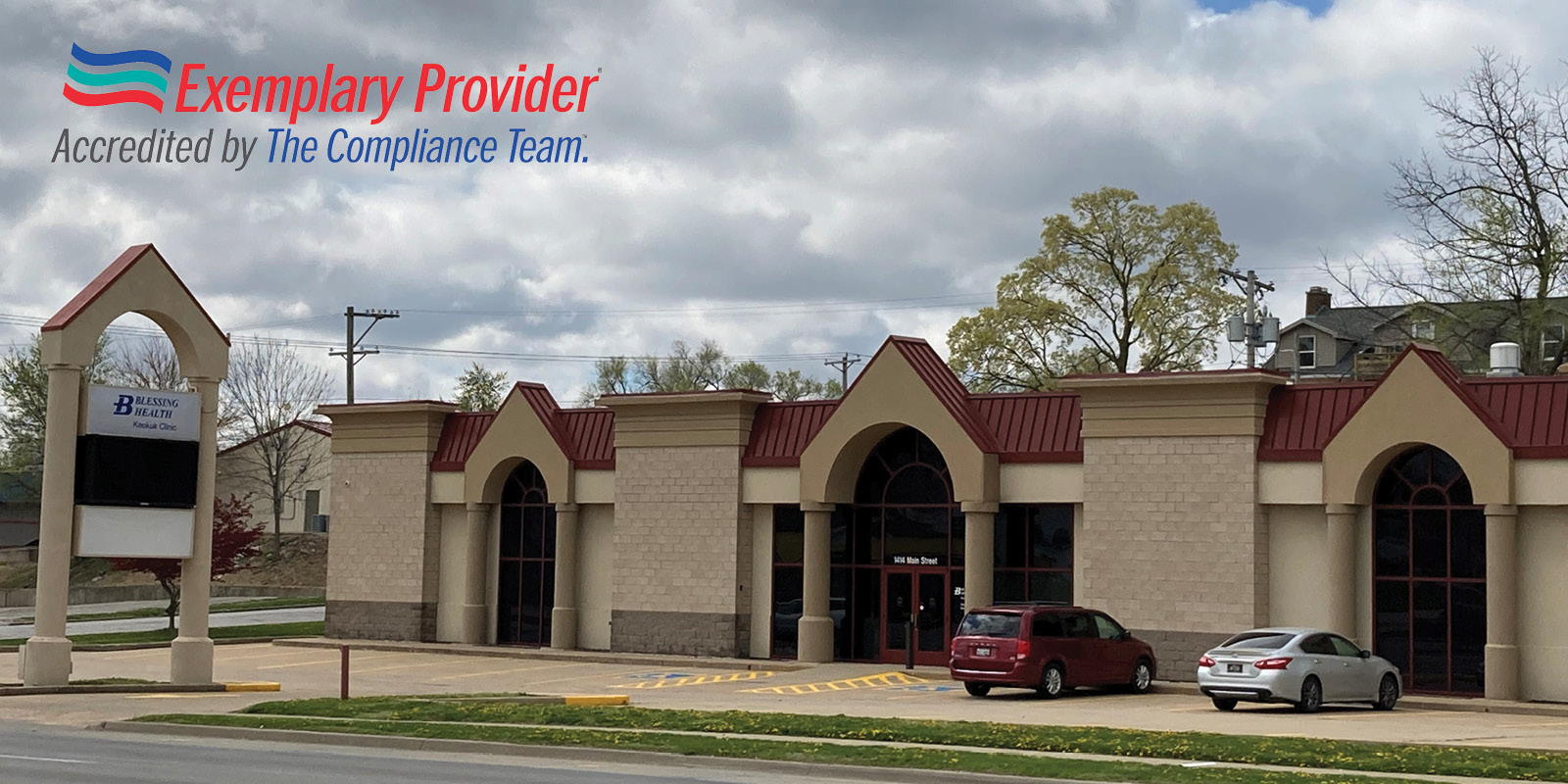 For information about Sports Physicals please click here. 
When selecting a healthcare provider for you and your family, you want a team you can trust through every stage of life.  For routine medical care and prompt treatment of minor emergencies, trust your family's health to the board certified providers of the Blessing Health Keokuk Clinic. Our healthcare providers offer annual wellness exams, same-day appointments, and chronic illness management.  We specialize in the evaluation and treatment of medical conditions related to work.  We offer customized care with state of the art technology including on-site physical walk through and safety and accident prevention. As a member of the Blessing Health System, the Keokuk Clinic is your direct link to the medical specialties and advanced services available throughout Blessing.
Meet Our Providers
Chelsea Youmans FNP-C - Family Medicine
Michael Merrick, FNP-BC - Occupational Health
Richard Sowlles, DPM - Podiatry
David Levinsohn, MD - Orthopedics and Sports Medicine
Our Services
We offer a wide range of services to help keep you and your family safe.  Our care providers have the expertise and range of services to best meet the needs of your family's busy life. Our healthcare providers see patients ages two and older and offer annual wellness exams, virtual visits and chronic illness management. In addition to our Family Medicine services we also offer Orthopedics and Sports Medicine and Occupational Health. 
Physicals
Work
School
Well Child Checks
Well Women (Pap test)
X-Ray
Chronic Condition Management
Diabetes
Hypertension
Hyperlipidemia
Hypothyroidism
Occupational Health Services include:
Employee Physicals
DOT Physicals by Certified Medical Examiners
Comprehensive Annual Exams
Fit for Duty Exams
24-Hour Drug & Alcohol Testing
Orthopedics - for all your work comp needs
Diagnosis & Treatment for Work Related Injuries
Pulmonary Function Testing
Vision Screening
Audiograms
Safety & Accident Prevention
Instruction on Proper Lifting Techniques
Good Posture & Back Care
Workplace Wellness Strategies
Workplace Analysis
Ergonomic Design
Hearing Conservation Program
Mask Fittings
We offer immunizations available on-site for groups of employees or individually at the clinic:
Flu Shots
Hepatitis B Vaccines
We can work with you for classes that are designed to keep you compliant in the workplace:
American Heart Association CPR & First Aid
Bloodborne Pathogens
Sports Physicals
Sports physicals are offered at Blessing Health Keokuk Clinic for students in grades 7-12 by appointment. Student athletes under 18 years of age must be accompanied by parent or guardian. 
To schedule an appointment call 319-524-2001. 
On the day of your appointment please have your correct form completed and signed:
---
View our Notice of Privacy Practice by clicking here.