Overview, Hours And Directions
Illini Community Hospital
640 West Washington
Pittsfield,
IL
62363
Get Directions
Phone Number
Parking Lot Recommendation
Front Lot
Entrance Recommendation
Main Entrance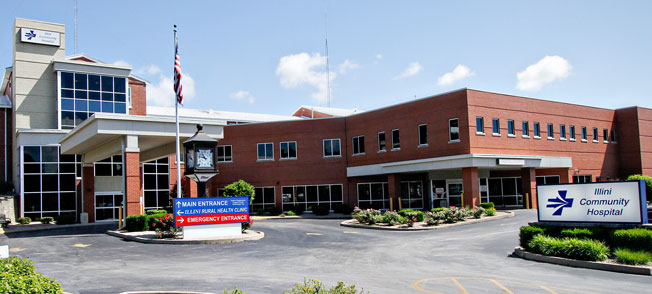 As part of the Blessing Health System, Illini Community Hospital is a 25-bed critical access hospital focused on bringing recognized expert physicians and the latest medical technology to our community. 
Click here to view the Illini Community Hospital Patient Rights and Responsibilities Statement
Experience the Illini Community Hospital Difference
We understand that traveling long distances to access quality healthcare can be challenging. We are here to meet the healthcare needs of Pike County and the surrounding communities. Explore Illini Services:
Our Mission
To improve the health of our communities
Our Vision
Illini Community Hospital's vision is to partner with our community to identify and meet patient-centered health care needs and exceed service expectations.
Our Values
Initiative: We continuously learn and improve. We embrace and act on change. We are proactive in earning and maintaining the trust of all customers
Communication: We use AIDET (Acknowledge, Introduce, Duration, Explanation and Thank You). We find answers to questions and are a positive voice for the Blessing Health System. We report concerns regarding compliance and privacy.
Accountability: We put the needs of customers first. We actively work to achieve the organizational goals, follow through on commitments, and role model confidentiality and the highest ethical standards.
Respect: We honor diversity. We do not engage in negativity or gossip, and uphold the personal privacy, dignity and rights of all customers. We greet and offer assistance to all with whom we come in contact.
Exceed Expectations: We seek ways to exceed customer expectations. We give customers 100 percent of our attention, expert care, and show empathy to every customer, every time.
Our Leadership
Kathy Hull, BS, MT(ASCP), MHA
President/CEO
Holly Jones, RN, BSN
Administrative Director of Nursing
Jennifer Mowen
Administrative Director of Performance Improvement and Management Systems
Susan Chenoweth
Administrative Director of Ancillary and Support Services
Our Board of Trustees
Jan Bleich, Chair
Laura Kent Donahue
Patrick Gerveler, Treasurer
Jeannie Goodman
Eric Miller, Vice Chair
Christopher Wagoner, MD, President, Medical Staff
Kathy Hull, President/CEO
Maureen A. Kahn, ex-officio/Secretary
Contact Us
To schedule an appointment or refer a patient, please call (217) 285-2113.  For billing information please click here. 
Upon request the hospital may provide the names and addresses of its owners or entities with controlling interest in compliance with 42 CFR 420, subpart C and J-0061 §491.7(b)
Illini Community Hospital dba Blessing Care Corporation is owned by the Blessing Health System.
Maureen Kahn, President/CEO, Blessing Health System
Kathy Hull, President/CEO, Illini Community Hospital
Chris Wagoner, MD, President of the Medical Staff