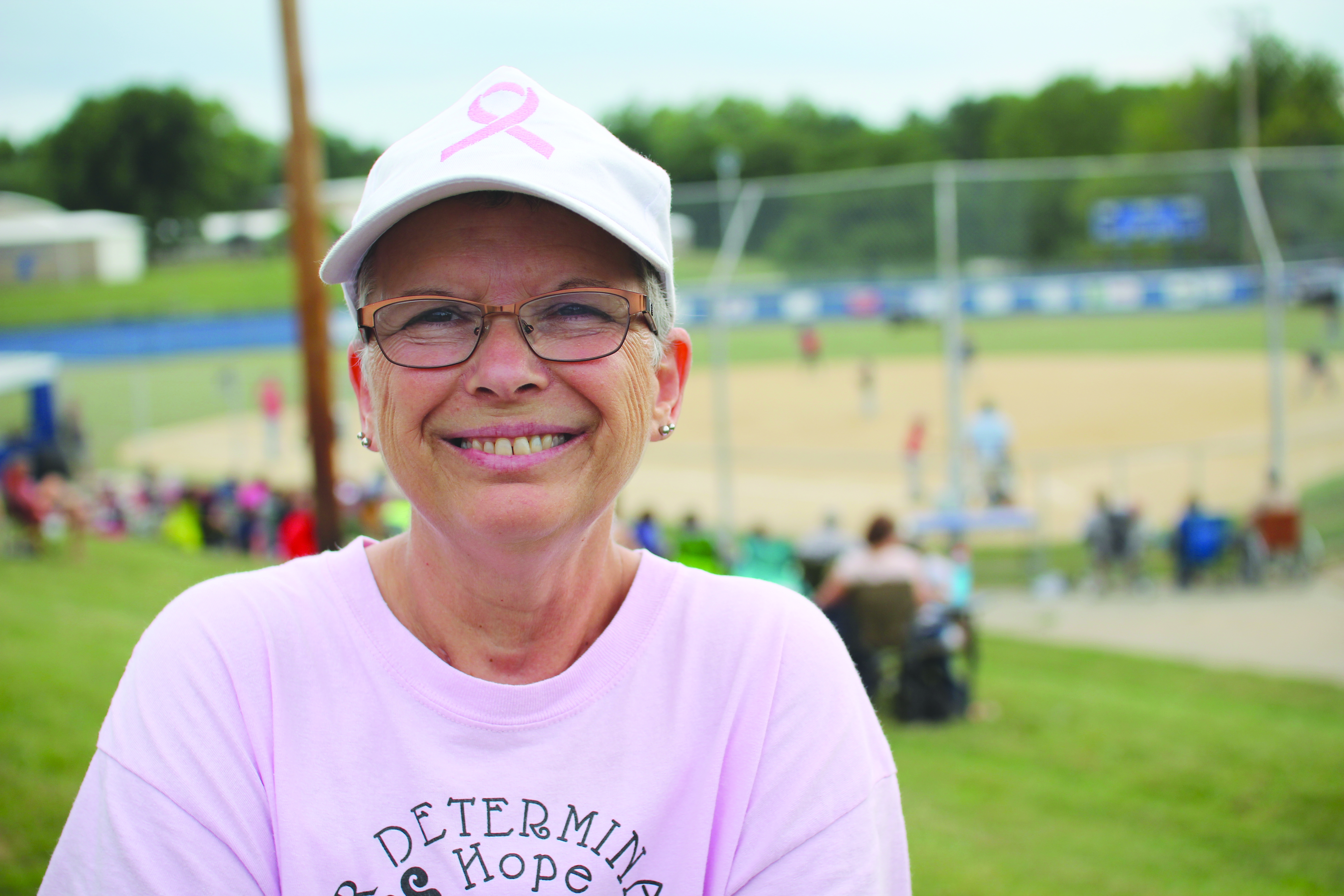 The Merrian-Webster dictionary defines the phrase "game face" as a look of intense determination.  The definition brings to mind visions of sneers, scowls and snarls. Theresa Hocking wears a different game face. She sports a smile.
"I am not going to let this define me," she said the 60-year-old mother of four and grandmother of eight. "If I do, I am just going to be sitting in a corner - depressed -  and I am not going to."
Theresa smiled in the face of a vicious opponent, triple negative breast cancer, the most aggressive form of the disease for which there are fewer treatment options than other forms of breast cancer.
Blessing Health System medical oncologist, Bassel Jallad, MD, says only 25-30 percent of women with breast cancer have the triple negative form.
"You must act quickly because the cancer is aggressive," said Dr. Jallad. 
Meet Theresa's team
As a fan of her grandchildren's' sporting events, Theresa recognizes and appreciates teamwork. Her team of Blessing Health System providers helped her keep a smile on her face in spite of the devastating diagnosis.
"It's been amazing," Theresa exclaimed. "It's one big team.  From the receptionists to the nurses and doctors, they have been awesome and very compassionate."
"It makes you feel important," she continued. "They have your best interest at heart, every single one of them. They are there for the whole journey, talking to you and holding your hand." 
Theresa's journey began when she felt a lump a week before her annual mammogram at the Blessing Breast Center. Seven days after the mammogram, a biopsy lead to the diagnosis of triple negative breast cancer. 
Theresa's team of Blessing Health System providers put the pedal to the metal. Within a week of the biopsy she consulted with Dr. Jallad, surgeon Dr. Emmanuel Bessay, and radiation oncologist Dr. Rob Johnson. They immediately began to build her treatment plan. By her side every step of the way was Blessing Breast Center patient navigator, Sheila Hermesmeyer, RN.
"It's very impressive," Dr. Jallad said of the teamwork of Blessing Health System cancer providers.  
Dr. Jallad worked in Detroit, Chicago and St. Louis before coming to Blessing.
"When working in a big medical center, it's sometimes difficult for providers to get together to make sure everyone is on the same page. Here, we are close together. We can get together quickly and the patient can be seen quickly.  It leads to better care."
Theresa's care included chemotherapy, followed by bilateral (double) mastectomy and radiation therapy. 
"It was my decision to have the bilateral mastectomy. I don't want to do this again," she said.
The team's game plan
The foundation of care at the Blessing Cancer Center are the guidelines of the National Comprehensive Cancer Network (NCCN).
"The guidelines were established by the best cancer care programs in the nation," said Dr. Johnson. "They are best practice for evaluation, testing and treatment."
"We use these guidelines, the same ones they use at Mayo, Barnes Jewish and MD Anderson," he concluded.
"The treatment we provide here is comparable to the breast cancer treatment you would find at large medical centers," added Dr. Bessay. "If you can get that level of care close to home, with the support of your family, it helps. There is a lot of emotional weight that comes with a diagnosis of breast cancer."
Patient navigator Sheila Hermesmeyer's job is help women carry that emotional weight, if they need help, and to understand their treatment and remove any barriers in their way.
"It is such a strange, scary subject," Sheila said. "It just kind of comes out of the blue. Women are living their lives and all of sudden they feel a lump, or, they were just getting their annual screening mammogram. When they get the diagnosis, they are caught off guard by it."
"Oh, my! It was scary"
That's how Carol J. Rankin of Lorraine, Illinois, described her experience. At 69-years-old, she found a lump which was confirmed as breast cancer. 
Carol had a less aggressive form of breast cancer than Theresa, but still had the Blessing team in her corner. In fact, her daughter, Schantelle Holt, is one of Dr. Jallad's nurses.
Carol said Schantelle told her she would get the care she needed wherever she chose to receive it. Carol chose Blessing, receiving care from Drs. Jallad and Johnson, and surgeon Chris Zwick, MD, of the Quincy Medical Group and Blessing Hospital Medical Staff.
"I think I received very good care." Carol stated. "I would not have gone anywhere else."
"If he (Dr. Jallad) didn't do a good job, I would have made her go somewhere else," said Carol's husband Larry. "But he did a good job."
Screening can be game-changer
Since she never had a problem before, Carol admits she did not get screening mammograms as often as recommend once she retired. Fortunately, Carol continued doing self-exams regularly.
"With the lump, one day it was just there. I had not noticed anything before and all of a sudden, it just popped up."
Carol and Theresa encourage all women to conduct breast self-exams and to get regular screening mammograms. 
Dr. Jallad estimates that 70 percent of his breast cancer patients come to him as a result of cancer found during screenings.
"I wish the other 30 percent had found their cancer because of screening," he said. "It increases the chance of finding the cancer at an earlier stage."