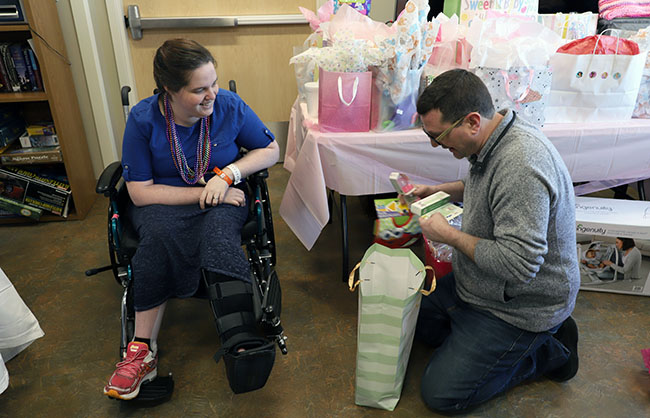 Through the course of human history the baby shower evolved into a significantly symbolic step on the path to parenthood, particularly for first-time moms and dads.
"You celebrate the life of this beautiful, miraculous being that will enter and completely change your world, and fill it with so much joy," described Denise Sangoi about the benefit of a baby shower. Denise is a mother and an occupational therapist in Blessing Hospital's Rehabilitation Services department.
When Denise learned one of her patients, Sarah Rzyski, had not experienced a baby shower for her newborn, she set out to change that.
Meet the Rzyskis
Sarah did not have a baby shower because her baby, Samantha Diane Rzyski, had a different plan – arriving 11 weeks early.
Immediately after birth, Samantha was taken from her hometown of Hannibal, MO, to a neonatal intensive care unit (NICU) in St. Louis. At her side were Sarah and husband David.
Sarah lives with Multiple Sclerosis, known as MS. It is a nervous system disease that affects the brain and spinal cord, slowing down or blocking messages between the brain and body, leading to the symptoms of MS that can include fatigue and weakness, walking difficulties, vision problems and emotional changes.
MS is not passed from parent to child. But during this incredibly stressful situation of a premature birth, Sarah's MS symptoms flared causing her to need to leave St. Louis and return to Quincy where her neurologist, Taofik Nasrat, MD, Blessing Physician Services, awaited her arrival to treat her so she could return to St. Louis and be with her daughter.
Before Sarah could have her first treatment she fell and broke her left ankle. Complicating the situation, MS causes weakness on the right side of Sarah's body, so she could not use crutches. Sarah's Blessing care team suggested she be admitted to the hospital where she could receive treatment for her MS symptoms and strengthen her broken left ankle.

Surprise!
Sarah was admitted to Blessing Rehabilitation, where she met Denise and the rest of the Rehab team. They learned her story and began to plan a surprise baby shower.
"It was a very unique situation, so this felt like the right thing to do," Denise stated.
Fast forward 25 days, to the day before Sarah was discharged from Blessing. She was brought to the Rehabilitation department day room at Noon. Behind the doors Sarah was greeted by a shout of "surprise" from her husband and nearly the entire Rehabilitation team. Over the next 45 minutes, the Rzyskis were showered with love, support and dozens of gifts – from beautiful blankets to bonnets and bibs from their new, extended family.
"I have no words for it," Sarah said. "I was not expecting it. I love them all. I was losing everything. They've helped me regain my life. It's all thanks to them."
The Rzyskis received gifts from not only their new Blessing Hospital Rehabilitation department family, but other hospital departments – maternity, pediatrics, Volunteer Services and the Blessing Foundation, whose donors provided Sarah with 20 outpatient physical therapy visits to continue strengthening her ankle.
"She met beautiful people that helped her not only heal, but have a path forward to being healthy," David observed.
The celebration is not over. Sarah and David are back in St. Louis with Samantha and have their sights set on bringing her home, and to meet her many new aunts, and a few uncles, in the Blessing Hospital Rehabilitation Services department. And they can't wait to meet her.