What we do & the need for a new house
Located less than a block from Blessing Hospital at 1129 Oak in a 70-year-old, two-story, three-bedroom, two-bath bungalow, the Quincy Hospitality House was founded in 1998 by Blessing Hospital, Blessing Hospital Volunteers and the Adams County Medical Alliance. While the concept was not new, having such a convenience was and remains relatively uncommon in smaller communities like Quincy.
The Quincy Hospitality House guests are family members of individuals who are receiving medical care from Blessing Health System, any other regional healthcare provider, and the Illinois Veterans Home. Patients also stay at the house prior to an early morning procedure or after a treatment when an immediate drive home may be too difficult. The Quincy medical community serves a 100-mile rural geographical area.
Funding for the modest annual budget comes from fundraisers, donations, grants and gifts-in-kind, and income from the $30/night room rates. Approximately 100 nights each year are complimentary due to a guest's economic circumstances. As wonderful as it is, the current house cannot accommodate all requests.
Guests must maneuver many stairs. Staying at the house is difficult, if not impossible, for persons with physical limitations.
Guests staying on the second floor must be instructed in the use of an escape ladder through their bedroom window in case of a fire.
Guests must share the bathrooms with other guests, volunteers, and staff.
Stair and bed railings and child-proof electrical outlet covers are non-existent, making the facility unfriendly for families.
Due to its age, the house is drafty and energy inefficient, which causes excessive electric bills.
At times, the Quincy Hospitality House must turn away guests due to lack of capacity. As our local healthcare system and medical proficiencies continue to grow, more patients will choose Quincy over larger cities for their healthcare services.
The current house was intended to be temporary. The time has come for a new house that retains the charm, warmth and hospitality of the current house while offering modern necessities and amenities for families and patients served by the Quincy medical community.
Building Components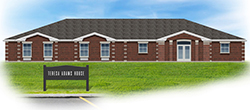 The Teresa Adams House will be an eight-bedroom home with private bathrooms and individual heating/cooling units. In addition to the reception area where guests will be greeted and checked in, guests will be able to gather in the home's living room, snack room, and private conference room. A laundry room and internet access will be available free of charge. There will be offices for two staff members and ample storage space.
8 Bedrooms (four handicap accessible rooms; four regular rooms)
340 sq. feet
2 queen beds
Small dresser
Bedside table with a lamp
Television with cable/satellite capability
Small refrigerator
Shelf and bar for clothes hanging
Individual heating/cooling units
Each bedroom will have a private bath with toilet, vanity, shower with seat and all will include bath/shower bars.
Security
Access security system for entrance. Guests need to have access in and out at all hours.
Central monitoring area and appropriately located internal & external cameras.
General Construction
One story on slab
All hard-surface floors
Hall width and bedrooms to be suitable for wheelchair width
Brick and siding exterior with pitched roof
Parking in conformance with local building code/handicapped
Appropriate landscaping
Estimated Expenses
Construction Cost (6,400 sq ft @ $200/sq ft)
Furnishings & Interior Finishes
Signage/Parking Lot
Operating Endowment
$1,300,000
$ 300,000
$ 100,000
$ 300,000
Total: $2,000,000.
Our House's Namesake: Teresa Adams
Among her admirable characteristics and talents, Teresa Adams was known and loved for the many memorable gatherings she hosted. They were spectacular, and she made them look effortless. Like Teresa, her home was inviting, tasteful, and elegant. She thought out every creative detail, and she was THE perfect hostess warm and welcoming, kind and comfortable, and so very gracious to her long-time friends as well as to people she was meeting for the first time. Teresa personified all the qualities that the Quincy Hospitality House Board of Directors wishes to offer guests in its new facility. Therefore, the new structure will be known as the Teresa Adams House.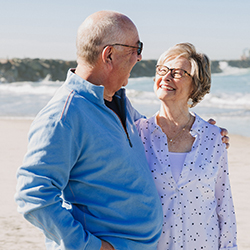 In 2007, at 59 years of age, Teresa was diagnosed with Stage 4 Ovarian Cancer. For 12 years, she battled her disease with grace, determination, and intellect. Teresa devoured medical literature to arm herself with knowledge about her condition and the available treatment options. She astounded doctors and inspired other patients and her friends. She never complained and did not discuss her struggles unless asked directly, to which she would respond honestly and openly. She refused to bring others down, and she was quite successful in maintaining her busy, optimistic lifestyle for many years, entering every room with a beaming smile, followed by a little chuckle that began almost all of her comments and conversations. She was a fighter to the end. "She was strong and brave and taught all of us how to live in the moment," said another. Teresa passed away on July 8, 2019.
If Teresa had been asked for permission to name this house after her, she would have never agreed. She was private and humble, always believing that someone else deserved the honor more than she did. Her family, friends and community disagree, and through this house, her strong, brave spirit will now be shared with those who need it most.
While Teresa never needed the services of the Quincy Hospitality House, she would have put her full support behind this new facility. She was all too familiar with the stress borne by patients and families dealing with illness. She knew the importance of comfort and "home" in the recovery process. She would have seen the big picture, and in true Teresa form, she would have been compelled to take action to bring comfort for many.
We trust you will do the same.
Donate To The Teresa Adams House
Make your donation today. If you would prefer to mail your donation, send it to the address below:
The Blessing Foundation
4939 Oak Street
PO Box 7005
Quincy, Illinois 62305
Contact Us
For more information about the Blessing Foundation, the Teresa Adams House, or to discuss a donation or gift, call (217) 223-8400, ext. 4800, or email us at blessingfoundation@blessinghealth.org.