The first snowflakes have fallen. All we have left of the summer of 2022 is fond memories. Patrick and April Folweiler of New London, MO, may have the most special memories of any of us.
"We had so much fun," April gushed.
"They are absolutely wonderful people - the most fun-loving and inspirational I have been around," added Jamie Hahn, RN, Blessing Cancer Center.
It takes every bit of that positive attitude to get through their day. Patrick and April face challenges unimaginable to most of us. In August 2021, 44-year-old Patrick was diagnosed with lung cancer that had spread to other parts of his body. He began treatment at the Blessing Cancer Center. 
Less than a year later - May 2022 - 42-year-old April was diagnosed with breast cancer and began treatment at the Blessing Cancer Center.
The couple has been married for 22 years and are the parents of three children – 25, 19 and 8 years old.
"Both of them having this diagnosis is really tough, but they handle it like champs," observed Jamie.
Jamie and his coworkers felt the couple deserved something special, so they nominated Patrick and April for a "Creating Memories" program gift, sponsored by the Quincy University women's basketball team. The athletes raise money throughout the year to donate to the Blessing Foundation for the benefit of Blessing Cancer Center patients. Cancer Center staff nominate patients to receive a financial gift that allows them to enjoy a special activity of their choosing and create memories during perhaps the most difficult time in their lives. 
The Folweilers were selected for a Creating Memories gift and chose a weekend in the Ozarks, the place they spent their honeymoon.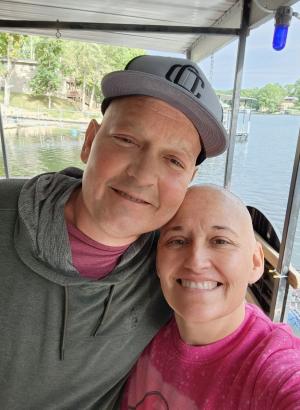 "All we've been doing is doctors," April said of the past year. "Just to be able to get away – it was almost like we left our diagnoses at home. We were just living for the day."
Patrick and April were joined on the trip by Jamie and his wife, and another Blessing Cancer Center nurse, Schanan Kivett, and her son.
Jamie and his wife have friends with a home on the Lake of the Ozarks. The friends gladly opened their home to the group for the weekend, as well as use of their boat and jet ski.
"We've been to the Ozarks before and never been on the lake," April said. "That was the best time, just being on the water, and being surrounded by such wonderful people."
The feeling was mutual for the Hahns and Schanan.
"Just watching Patrick and April laugh and smile and be together making memories," Jamie said. "That's what we got out of it."
Jamie is honored the Folweilers chose Blessing Cancer Center for their care. He is proud of the quality of care provided and the support the team offers the couple. But Jamie knows the source of Patrick and April's strength flows from each other and their children.
"They are high school sweethearts and depend on each other," he said.
April says she is strong because of Patrick.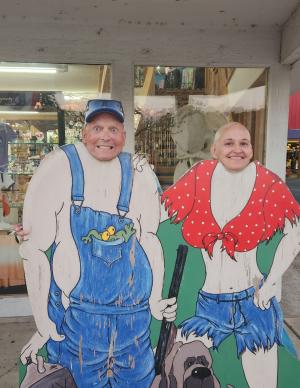 "He's amazing. Watching him gives me hope and energy," she said. "We wake up with a positive attitude and just go."
Wonderful advice for everyone, isn't it?  Wake up with a positive attitude and just go!