Overview, Hours And Directions
Phone Number
Parking Lot Recommendation
6
Entrance Recommendation
Main Entrance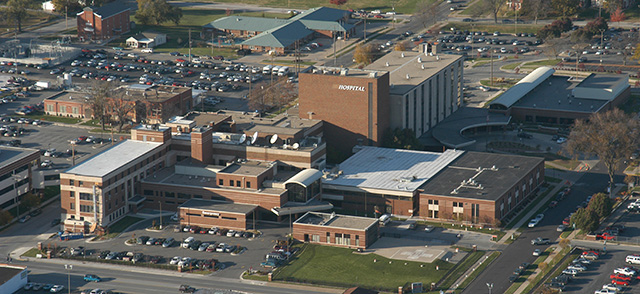 About Blessing Hospital
Blessing Hospital is a 307-bed acute-care hospital in Quincy, Illinois. A not-for-profit, non-tax supported, independent hospital, Blessing is committed to providing compassionate, high-quality care using advanced technology in state-of-the art, comfortable facilities. The hospital is fully accredited by DNV-GL Healthcare.
Click here to view the Blessing Hospital Patient Rights and Responsibilities Statement
Our Mission
To improve the health of our communities
Our Vision
Blessing will be the leader in quality patient- and family-centered health care. In partnership with our community, patients, staff, students, volunteers and physicians, we will create and support a culture of excellence and financial sustainability.
We will be recognized as the:
Provider of choice for our patients

Employer of choice for our staff

Partner of choice for our physicians

Health care educational provider of choice
Our Values
I CARE
Initiative: We continuously learn and improve. We embrace and act on change. We are proactive in earning and maintaining the trust of all customers.
Communication: We use AIDET (Acknowledge, Introduce, Duration, Explanation and Thank You). We find answers to questions and are a positive voice for the Blessing Health System. We report concerns regarding compliance and privacy.
Accountability: We put the needs of customers first. We actively work to achieve the organizational goals, follow through on commitments, and role model confidentiality and the highest ethical standards.
Respect: We honor diversity. We do not engage in negativity or gossip, and uphold the personal privacy, dignity and rights of all customers. We greet and offer assistance to all with whom we come in contact.
Exceed Expectations: We seek ways to exceed customer expectations. We give customers 100 percent of our attention, expert care, and show empathy to every customer, every time.
Our Services
Our Leadership
Maureen A. Kahn, RN, MHA, MSN
President/CEO
Elliot H. Kuida, MPH
Chief Operating Officer
Timothy A. Moore, CPA, CIA
Chief Accounting Officer
Tim Tranor, RN, DNP, MBA
Chief Nursing Officer
Mary Frances Barthel, MD
Chief Quality and Safety Officer
Debra Phillips, MD
Chief Medical Information Officer
Christopher Solaro, MD, PhD
Chief of Medicine
Arden Reynolds, MD
Chief of Surgery
Our Board of Trustees
Christopher J. Niemann, Chair
Julie Brink, Vice Chair
Maureen A. Kahn, President/CEO
Timothy A. Moore, Secretary
Patrick M. Gerveler, Treasurer
Adam Reyburn, MD
Sayeed Ali
Nancy Bluhm
David Boster
Dennis Go, MD
Michael R. Hulsen
Timothy D. Koontz
Thomas Miller, MD
Harsha Polavarapu, MD
Abby Reich, MD
Careers at Blessing
Blessing Hospital offers a career path that offers work-life balance and an opportunity to do worthwhile work! Click here to learn more about and apply for open positions. Or, click here to sign up to have job alerts delivered directly to your cell phone!
Visiting Options
Standard visiting hours are 8:00 am – 2:00 pm and 4:00 pm – 8:30 pm daily.

Quiet time is observed from 2:00 pm – 4:00 pm on all floors. One support person may stay with the patient during this time.

To learn more about visiting hours and guidelines specific to the unit on which your loved one is receiving care, please call (217) 223-1200, and ask for the unit on which they are staying or click here to learn more.
Dining Options
Food and Nutrition Services and Blessing Volunteers in Partnership (BVIP) provide a variety of dining options to meet the needs of patients, visitors, and team members. Click here to learn more about the options below:
Blessing Cafeteria
Blessing Tea Room and Gift Shop
BH Java
Blessing Health Center Snack Shop