Overview, Hours And Directions
Denman Direct
4800 Maine Street,
Suite 48-106,
Quincy,
IL
62305
Phone Number
Hours
Mon-Fri, 8:00 am – 5:00 pm
Closed Saturday & Sunday

Direct To Consumer Medical Equipment Now Open
Denman Direct brings additional alternatives to those needing medical equipment and supplies right here in Quincy by selling direct to the consumer, and does not bill insurance. Denman Direct Retail consists of health and wellness products available in store.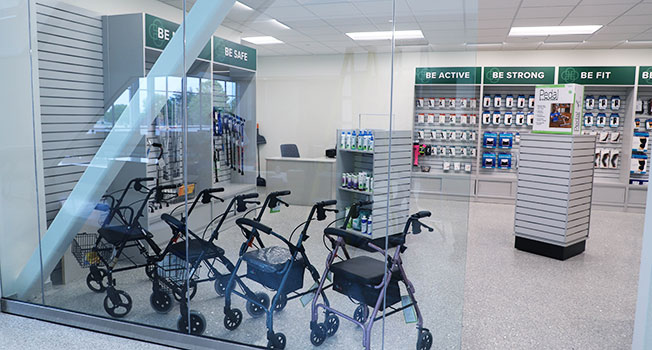 Denman Direct Retail
Our focus is on personal customer service, helping ensure each shopper gets the product that best fits their needs. All products are sold direct to the consumer, so there is no need to worry about the paperwork required by Medicare, Medicaid or insurance.  A prescription is necessary for items that require one.
Our Products
Bath Safety Items
Compression Socks
Nebulizers & Kits
Physical Therapy products
Power Recliners
Skin Care
Walking Aids
Wound Care
Wrist, Knee or Ankle Braces
Denman Direct eCommerce
Our eCommerce focus is offering quality used and new medical equipment and supplies at the lowest price possible. Orders can be shipped or picked up in Quincy, Pittsfield, Macomb, or Hannibal. Click here to visit our Denman Direct online store.
Our Products:
CPAP Cleaners
CPAP Supplies
Nebulizers & Supplies
Overstocked items
Used CPAP / BiPAP Machines
Used Wheelchairs
Denman Direct Retail Store
4800 Maine St
Quincy, IL 62301
Phone: (217) 224-4126
Email:  DenmanDirect@denserv.com
Our store hours are:
Monday – Friday:  8 a.m. to 5:00 p.m.
Saturday: Closed
Sunday: Closed
Denman Direct eCommerce
http://www.denmandirect.com
Phone: (217) 221-5551
Email: DenmanDirect@denserv.com