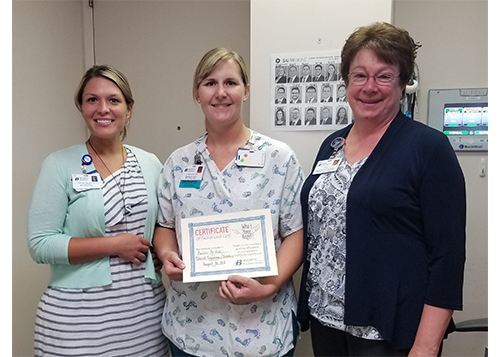 A Blessed Beginnings RN was recognized on Thursday, August 30, with a "Who's Your Angel?" award from The Blessing Foundation for exceptional care with their patient. 
The "Who's Your Angel?" program is an opportunity for patients and their families to express their appreciation to anyone in the health system they have encountered who made a positive difference in their healthcare experience. The donor makes a financial gift of any size in the name of the employee and writes up a story sharing the experience. Audra Archer, RN, was recognized on Thursday afternoon. 
"Audra is an amazing nurse who was there for me when I was admitted, as well as when I was discharged," the nomination read. "She talked me through my hard contractions, let me lean on her when I was given an epidural, and was very informative every step of the way. My mother, who was in the delivery room, said there were concerns about my daughter's heart rate throughout labor, but I never knew and was not stressed due to how calm Audra handled it. She is a great asset to your department and I am blessed to have had her as my nurse!"
Pictured above are (l-r): Jamie Lash, Nurse Manager, Blessed Beginnings/Obstetrics; Audra Archer, RN, Blessed Beginnings/Obstetrics; and Pam Frericks, Donor Services Specialist, The Blessing Foundation.
The Foundation deposits the gift to the patient care area or restricted fund that most closely matches the employee being honored. Any staff member can be nominated and nomination forms can now be found in over 35 different departments within the health system, from Palmyra to Pittsfield, to Golden and more!  
For more information regarding the "Who's Your Angel?" program, or giving of any kind to Blessing Health System, contact The Blessing Foundation at 217-223-8400, Ext. 4800, or go online to https://www.blessinghealth.org/patients/recognize-team-member.