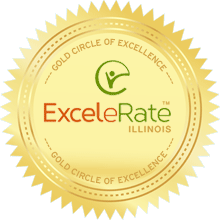 Blessing Hospital's Lauretta M. Eno Early Learning Center has earned a Gold Circle of Quality designation from ExceleRate Illinois, the state's quality rating and improvement system for early learning and development providers.
ExceleRate Illinois unifies the state's early learning programs under a common set of standards across multiple delivery settings and supports programs that integrate and sustain best practices, while publicly recognizing those program working to achieve higher quality.
"We are proud to receive the Gold Circle of Quality," said Joleen Patton, Director of the Blessing Lauretta M. Eno Child Care. "Providing quality in early learning and development will help our children be better prepared for success in school and in life."
To maintain the Gold Circle of Quality designation, programs must submit a yearly report and then reapply for the designation at the end of a three-year period and demonstrate all standard requirements are met.
The Blessing Hospital Lauretta M. Eno provides early learning services and care for just over 500 children between the ages of 0 months-12 years old for families of Blessing Health System employees.