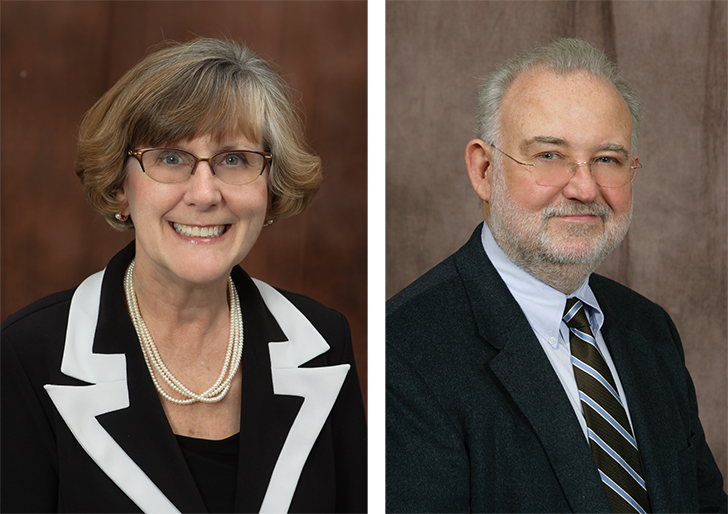 Two Blessing Hospital leaders have retired after 35 years of service to the organization.
Beckie Bean, Experience Officer, Blessing Corporate Services, has retired after 35 years of service.
A registered respiratory therapist, Bean began her career with Blessing in the Cardiopulmonary Services department before joining Administration.
Her professional affiliations include serving on the Board of Examiners for the national Baldrige Excellence Program and as Chief Judge for Illinois Performance Excellence. Both programs are designed to guide organizations to higher levels of performance.
Bean is a graduate of St. Mary School of Respiratory Care, Biosystems Institute and Ottawa University.
She and her husband, Duane, are the parents of one.
Robert E. "Bob" Dickson, Administrative Coordinator, Employee Relations & Diversity, Human Resources Department, Blessing Corporate Services, has retired after 35 years of service.
Dickson began his career at Blessing as the Director of Student Services for Blessing-Rieman College of Nursing and the Blessing Laboratory and Radiology schools. He joined the Blessing Human Resources Department in 1991 where he served as Personnel Manager of Benefits and Compensation and Director of Human Resources for 13 years before accepting the position from which he retired.
Prior to Blessing, Dickson worked for the State of Illinois Department of Labor, and as a math and social science teacher in Missouri.
He pursued his undergraduate studies at Northeast Missouri State University, Kirksville, MO, with a Bachelor of Science in Education degree, Dickson pursued his graduate studies in College Student Personnel Services at Western Illinois University, Macomb, IL, and holds certification in Human Resources from the University of Wisconsin-Milwaukee.
A 30-year volunteer with the Boy Scouts of America, Dickson has served as Chairman of the Fox District. On the Council executive board, he has served as President, and Vice President of Administration and of Program and Training. Dickson received the District Award of Merit and the Silver Beaver Award for his volunteer service.
Dickson is the father of one daughter.