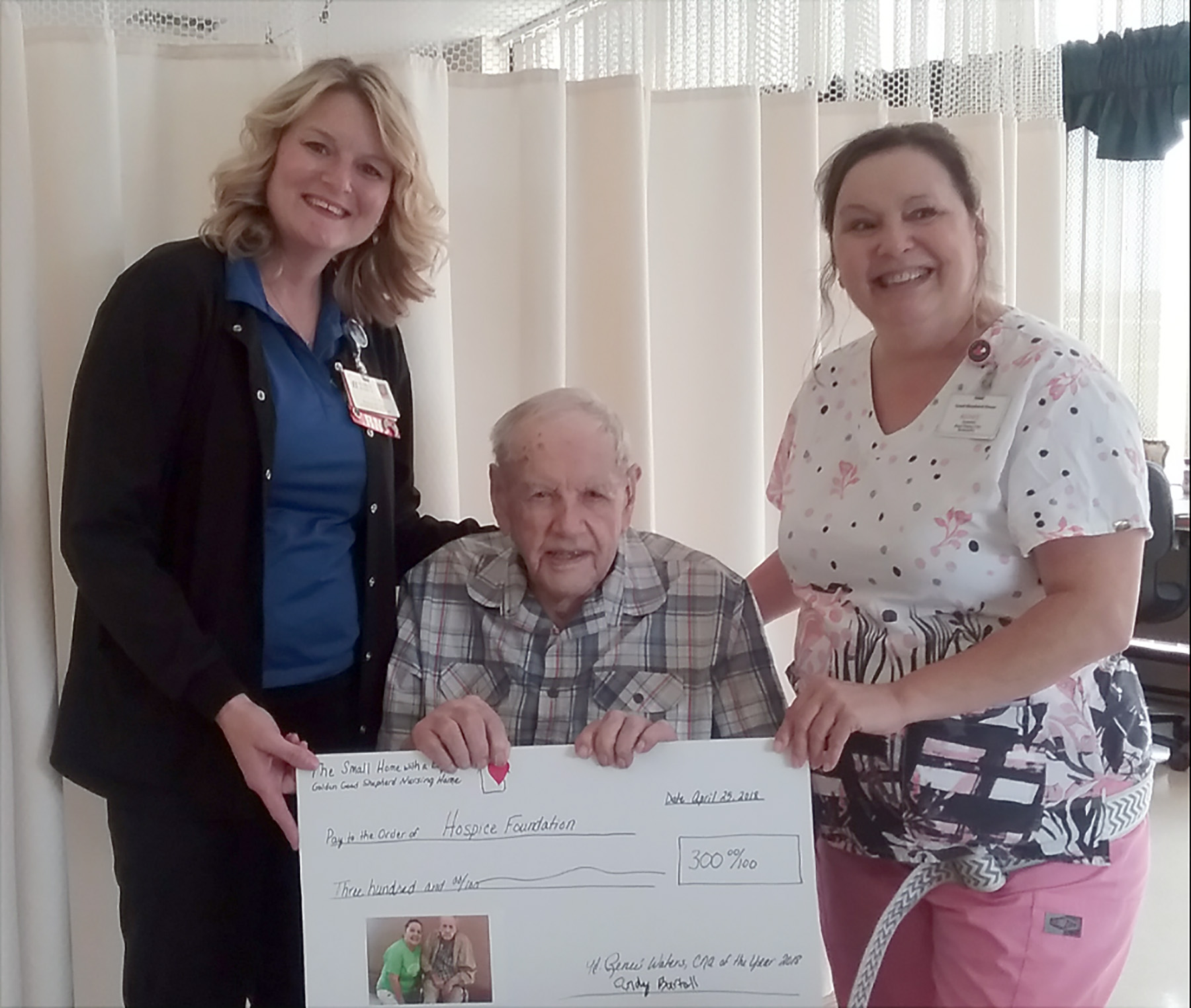 Renee Waters took the old saying, "put your money where your mouth is," one step further recently. The award-winning certified nursing assistant (CNA) put her money where her heart is.
Waters, of Golden Good Shepherd Home in Adams County, won the 2018 communitywide CNA of the year contest, sponsored by John Wood Community College. As part of the honor, she received $300. Renee did not have the money for long.
Soon after receiving her money she donated it to Blessing Hospice and Palliative Care. Blessing Hospice staff provide end-of-life care in five west central Illinois counties. The care is provided in patients' homes, the homes of their loved one or in contracting nursing homes. Golden Good Shepherd contracts with Blessing Hospice for the care of their residents at the end of life, if they choose.
Renee is familiar with Melinda Thompson, RN, the Blessing Hospice nurse who cares for Good Shepherd residents. She is also familiar with what happened when Melinda broke her leg and could not work for more than four months.
"Melinda is a special lady. When she got hurt, I realized how special she was," Renee said. "The residents would ask how she was and tell me how much they missed her."
The love the residents had for Melinda moved Renee to donate her award to The Blessing Foundation for the needs of Blessing Hospice patients.
"Hospice is such an important service to this community," Renee continued. "I wish it could have been more," she added about the donation.
Renee admits to a little help with the donation plan. She worked with Golden Shepherd Home resident and Blessing Hospice patient, Andrew Bartell, 102 years old, to surprise Melinda with the check presentation.
"We got together our plan and pulled it off," Renee said of her partner, Andy. "It was a great moment."
"I am humbled by the donation and Renee's generosity towards Hospice," said Melinda. "I am also thrilled that Andy was able to help plan and participate."