For most of his 78 years, Gary Vogel says his health has been, "generally, really good."
The situation changed drastically over the past two years.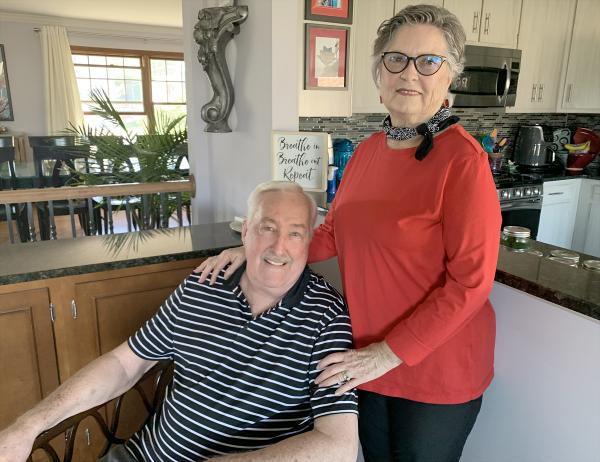 Gary and Patty Vogel
"He really was in bad shape," said Gary's wife of 59 years, Patty.
COVID followed by sepsis drained his energy and strength. Sepsis is an infection affecting the entire body that can turn fatal if not treated quickly.
Gary has bounced back thanks to care from his wife, two daughters and his Blessing Home Care team.
"They were just wonderful," Patty said about Blessing Home Care. "Eventually, they felt like family. They were friendly, personable and delivered personal care."
Blessing's home care services allow a person to stay in their own home while receiving the medical treatments and therapies they need. Gary received skilled nursing, physical and occupational therapies and personal care assistance from Blessing Home Care from January through September 2022.  Team members taking care of him included Chris Miller, RN; Brooke Cook, physical therapy; Ryan Mote, physical therapy assistant; Erin Ryan, occupational therapist; and Brooke Nelson, certified nurse assistant.
When COVID followed by sepsis had drained his energy, Gary needed help bathing. Not a comfortable situation for any person.
"I had to walk with my walker into the shower in order to get in there. I could not stand up," Gary said. "It's the most demoralizing thing in the whole world when it happens to you."
"I came to respect her," he said of CNA Brooke Nelson. "She was terrific in this situation for me."
Gary vividly recalls his therapy with Erin Ryan.
"She would show up with the most off-the-wall stuff. Sometimes it made me think, 'What are you doing?'"
Like the time she pulled a cushion off a chair, placed it on the floor and asked Gary to stand on it, to begin regaining his balance.
"It was more difficult than I thought. It was also the greatest thing she could have done because within two weeks, I had my balance back."
Admittedly a hard-headed person, Gary says his Blessing Home Care therapists took care of that "problem" too.
"They don't care how hard-headed you are. They are going to do their job. And I'm thankful for that.  There were a lot of things I didn't think I could do, but I did them anyway," Gary said proudly.
Patty adds that when someone from Blessing Home Care was caring for Gary, she had time to attend to other needs.
"I would run to the grocery store or do other errands, because I could not leave him alone," she said. "It was a relief to me to have them here and we looked forward to them coming."
"It was definitely a good experience," Patty concluded.
For more information on the services of Blessing Home Care, go to blessinghealth.org/homecare