Steve Rush has a soft spot in his heart for his hunting dogs.
"I could go hunting and not even shoot. I just like working my dogs," said the 61-year-old Adams County resident. "If I didn't have dogs I wouldn't go hunting. I'll have a dog until my last day, probably."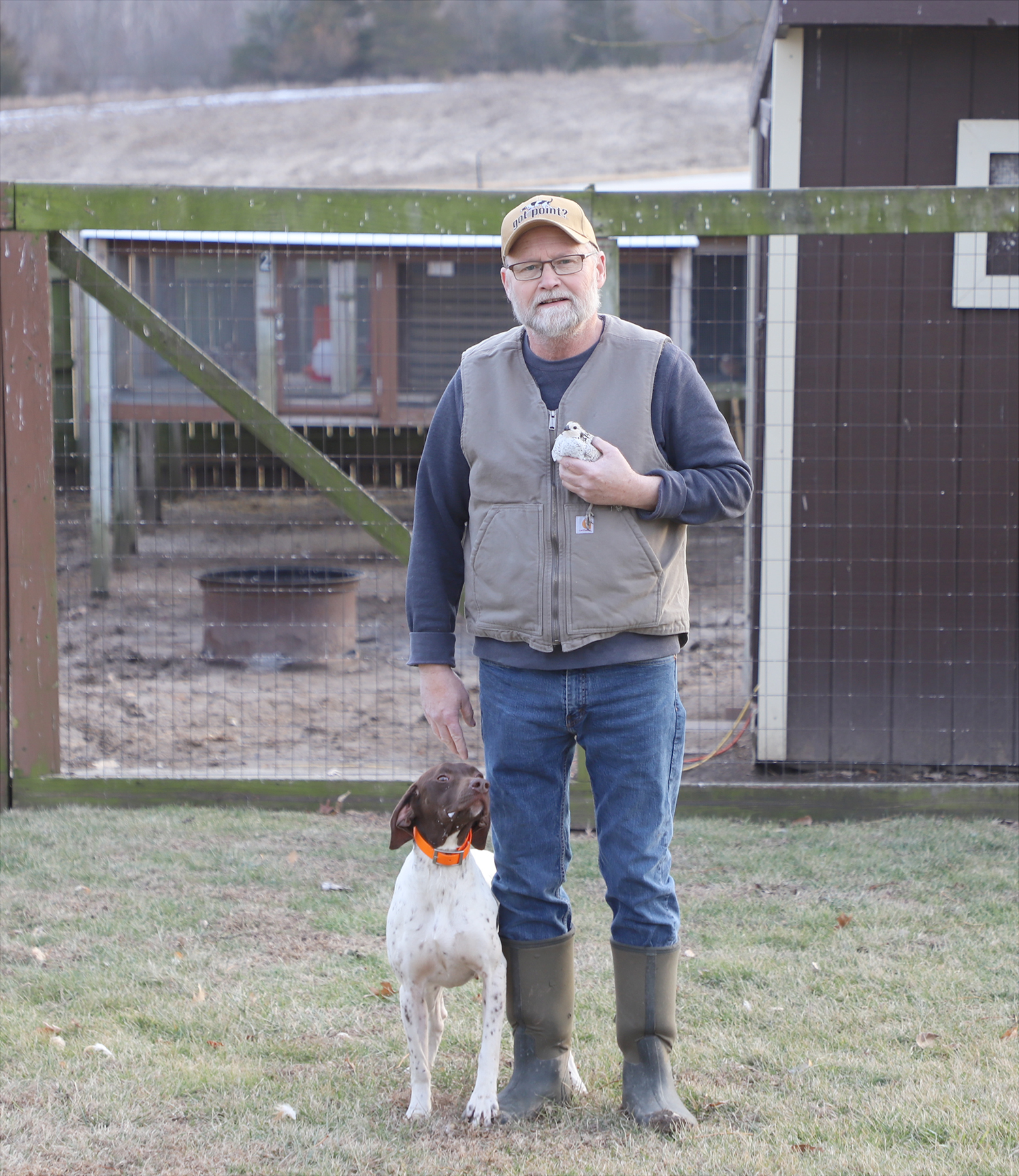 That "last day" flashed before Steve's eyes sooner than he expected. It was the summer of 2022 when family history of heart disease caught up with him.
"I'd go out to water and feed the birds. When I was done, I'd have a little pain shooting up in my left shoulder," he said. Steve raises quail with which to train bird dogs.
"I'd complain about the pain to my wife and she'd say, 'You need to go get it looked at.' Guys don't like to go to the doctor, but finally she made an appointment for me."  Steve's wife is a long-time Blessing nurse.
He went to see Blessing Health primary care provider Ben Bukey, DO, for a stress test. Steve was not too concerned about the test. He underwent stress tests before and always passed them successfully.  Still, he joked with a nurse just before his test.
"When I walked in I said to the nurse, 'One of these days I'm going to fail one of these.'  I did.  When we were done she told me I was not going home. I was admitted to the hospital."
A cardiac catheterization the next day, performed by Blessing Health cardiologist Steven Krause, DO, showed four arteries blocked at least 95 percent in Steve's heart. Open heart surgery was required.  
"I was really surprised. I was hoping to need stents only," Steve said.
Family history catches up with Steve
While he may have been surprised, heart disease runs in Steve's family. His father and all 11 of his father's brothers and sisters had heart disease. At least a couple of those relatives, including his father, required open heart surgery and one uncle passed away at a young age due to heart disease.
"I was really nervous," Steve stated. "In addition to my family, I had a coworker who passed away a few years ago. He had open heart surgery two or three times, and I remember him saying how scared he was."
To make matters more stressful, Steve developed COVID only days before his open heart surgery, delaying the procedure for nearly two weeks.
Steve's recovery is bird dog-fast
When Blessing Health cardiothoracic surgeon John Arnold, MD, was able to perform Steve's bypasses, he was on the road to recovery quickly – nearly as fast as when his dogs spot a quail.
"Later in the day after surgery, nurses came in the room and said, 'You're going to walk now,'" Steve recalled. "I'm lying there thinking, 'There is no way I am going to walk.' They're like, 'Yes you are.' We walked to the door of my room and back."
"Every day they came in and got me to walk a little further each time."
Steve had surgery on a Thursday and was home the following Sunday afternoon, where he continued his walking routine, building it up to a couple of miles each day.
Within a month, Steve was back to caring for his quail and bird dogs, and within two months he was back at work full-time running his CNC lathe at Midwest Patterns in Quincy where he has worked for 35 years.
This guy will now make sure he sees his doctors
While a person cannot outrun family history, Steve is doing what he can to keep his heart strong including "eating more fruits than cupcakes," and planning to see his doctors on a regular basis; including Drs. Krause and Dr. Bukey.
He also appreciates the care provided by Dr. Arnold.
"I hope I never have to do it again," he said. "If I did, though, I'd go with Dr. Arnold. I trust him. He's a good guy."
For more information on Blessing's heart care, go to blessinghealth.org/heart. 
For more information on Blessing's primary care services, go to blessinghealth.org/familymedicine.