Before Barry Werries held a scalpel, he had a baseball in his hand.
Dr. Werries is a member of Blessing Health System's Orthopedic and Sports Medicine team. 
"My father loved sports and watched many Cardinal games on TV," Dr. Werries said. "As long as I can recall, I always had a ball or bat in my hands.  My mother told me when I was a toddler, I would be in front of the mirror practicing my pitching or batting mechanics."
"I am fascinated with the strategy involved in the game of baseball, and the skills involved in executing that strategy," Dr. Werries said.
Barry Werries, the athlete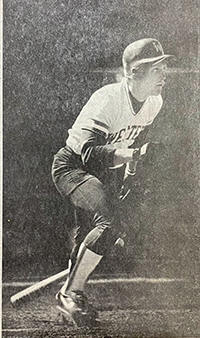 As a teenager, Dr. Werries was a pitcher, third baseman and outfielder for Jacksonville (IL) High School and played American Legion baseball in the summer.  In college, he made the Western Illinois University team as a pitcher, first baseman and outfielder.
"When I played at Western Illinois, I was the starting and winning pitcher when we beat the University of Illinois," Dr. Werries stated.
He also competed in the Central Illinois Collegiate League as a pitcher and outfielder for the Jacksonville Bullets and as a first baseman for the forerunners of the Quincy Gems, the Quincy Rivermen, in the late 1980s.
"As a pitcher, I had a good slider and sinker, but my velocity was only in the mid-80s," Dr. Werries said. "As a position player, I was a good hitter for average and power, but I was not a fast runner."
Deciding to trade in his uniform for surgical scrubs
Dr. Werries had dreams of playing professional baseball, and even attended a couple of Major League Baseball tryout camps before college. But in cooperation with one of his coaches, he decided medicine was his future.
"I knew that I could compete at the minor league level, but I was not good enough for the major leagues," Dr. Werries said. "When I was a senior in college, I had already been accepted into medical school. My coach and I decided that it would be the best path for me than spending time pursuing baseball at the pro level."
Still at the top his game
These days, Barry Werries performs under the lights of the operating room and not a stadium, yet he approaches his performance in the same way.
"As with any sport, you are continually striving to perform at the highest level.  As an orthopedic surgeon, I continue to improve my care for my patients by staying informed of the most current studies, using the best surgical techniques, and utilizing the latest technology," Dr. Werries concluded.